What is Trampolining?
Trampolining or trampoline gymnastics is a recreational activity, acrobatic training tool as well as a competitive Olympic sport in which athletes perform acrobatics while bouncing on a trampoline. In competition, these can include simple jumps in the straight, pike, tuck, or straddle position to more complex combinations of forward and/or backward somersaults and twists. Scoring is based on the difficulty and on the total seconds spent in the air. Points are deducted for bad form and horizontal displacement from the center of the bed.
Outside of the Olympics, competitions are referred to as GymSport, Trampoline Gymnastics (TG), or Gymnastics, which includes the events of Trampoline, Synchronized Trampoline, Double Mini-Trampoline & Tumbling.
What age Group and how long are the sessions?
The age group for Beginner Trampolining is 5-8 year olds and the classes  run for 1 hour
What is the format of a session?
In a Beginner Trampoline class we train on three apparatus – individual trampoline, double mini trampoline and tumbling.
Each session starts with an active warmup and stretching and most of the class is on the apparatus.
We finish each training with some strength training and stretching
Meet our Trampolining Head Coach – Daniel Lynch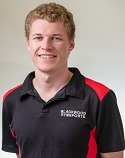 How did you get started in Trampoline Gymnastics?
I started trampoline gymnastics right here at Blackwood in its former venue on Coromandel Parade. As a child I couldn't find the sport that was right for me, but when my sister started gymnastics, I liked the look of the trampolines! That was way back in 2000 so this is my twentieth year in the sport.
What is the highest level you have competed?
After my time at Blackwood, I was accepted into the Gymnastics SA T-JETS high performance program and spent three years training at Royal Park. I returned to Blackwood after a short break during Year 12. During my career as an athlete I competed at several Australian Championships and earned a number of podium places and an Australian title in Synchronised Trampoline.
How long have you taught Trampolining?
I started coaching in 2009 at Blackwood, then spent time as a senior coach at the former Team Trampoline club in Norwood. I became the Head Coach at Blackwood in 2014 and have been the State Team Head Coach since 2015.
Why do you like coaching Trampolining?
My greatest enjoyment in coaching is seeing young people challenge themselves and progress in the sport. There is nothing like working together to achieve a new skill, a new routine or improving existing skills and routines!
What advice would you give  to someone who is thinking of getting involved in the Trampolining Program?
The best thing to do is just to come and give it a go! We have a team of highly experienced and energetic coaches that can guide you in learning the best technique to be safe and have fun on the trampoline. Increasing your flexibility at home will also benefit.
How can I get involved?
Our term 4 enrolments are currently open so if you would like to book your spot now, please contact us on 8278 8833 or email admin@blackwoodrec.com.au